Inmiddels is het half augustus en de temperaturen in zuid Spanje zijn bijzonder hoog.  

Temperaturen van 43 graden zijn aan de orde van de dag en het zal nog wel even zo blijven. Augustus is meestal de heetste maand van het jaar, waarna vaak fikse onweersbuien volgen. Voorlopig is het dus nog even zwaar voor onze vrijwilligers en ook de dieren doen het rustig aan.
De afgelopen maanden hebben wij door de opgelegde Corona restricties niets kunnen ondernemen om ons zwerfkatten-sterilisatie project uit te voeren. 
Laten we hopen dat met de opleving van het virus dezelfde situatie zich niet opnieuw gaat voordoen. Zolang dat niet het geval is willen we toch heel graag en zo snel mogelijk weer aan de gang met het project voor sterilisatie van zwerfkatten.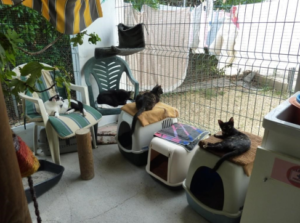 PAWS-PATAS heeft nu 60 katten in de cattery en in foster homes waaronder heel veel kittens. We ontvangen nu gemiddeld 10 tot 15 verzoeken voor hulp per week, terwijl de afgelopen dagen 14 katten en kittens  bij de poort werden achtergelaten. Als het TNR (Trap Neuter Release programma  of Vang/Steriliseer/Vrijlaten) niet heel snel opgestart kan worden, verwachten we in het najaar een nog grotere explosie van het aantal kittens. Hoe eerder er ingegrepen kan worden, hoe meer leed kan worden voorkomen Daartoe is nu er een "Go Fund me" actie gestart die hieronder gedeeld wordt.
De omderstaande  link geeft de mogelijkheid om te doneren voor de door PAWS-PATAS gestarte actie:
https://www.justgiving.com/crowdfunding/paws-patastnr?utm_term=7DGADxX6n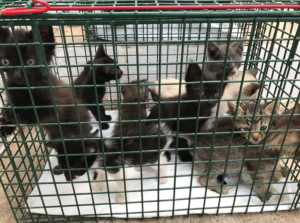 Donaties kunnen uiteraard ook worden overgemaakt via de PAWS-PATAS bankrekening, te vinden onder de kop "donaties" in de menu balk van deze site onder vermelding:   TNR gift for PAWS-PATAS.
De tekst van de fundraiser ( Engels):
For years at Paws-Patas we have been running our own Trap, Neuter and Return (TNR) campaign in and around the Mojacar area. We have managed to slowly reduce the stray cat colony numbers by Trapping, Neutering and Returning as and when the funds are available and our colonies were looking healthy and well cared for.
This year, due to the Covid-19 virus, we have seen the feral cat numbers dramatically increase, with some 500 new kittens being born in the area and there will be another wave of births in the Autumn of the same numbers, if not more as kittens can breed from 6 months of age..
Without your help by donating the colonies health status will be drastically reduced by fighting and stray males visiting calling females, bringing diseases with them.
We are asking for your help as our fundraising has been non existent due to lockdown and now people are rightfully fearful of attending any fundraising gatherings. This leaves us with an overflowing cattery and barely sufficient funds to cover costs. We are receiving 10 -15 requests for help a week and this week alone there were 14 abandoned cats and kittens at the shelter gates. We have a real dilemma, soon, things will revert back to previous forms of control by locals indiscriminately poisoning the colonies. We are on the edge of a cat colony explosion.
Please please donate if you can, no matter how small the donation is, it all mounts up to get one more cat neutered and stops another breeding pyramid from happening.
Total Page Visits: 1837 - Today Page Visits: 2